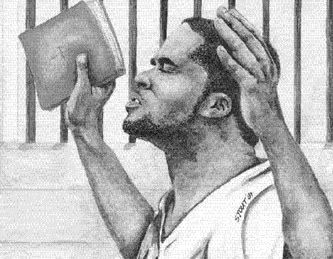 This came as a result of accusations on CARM that I use statistics unfairly and dishonestly. They have no demonstrated any dishonest use. As it turns out what they calling 'dishonest' is my failure to accept their words for things. This is a test case that I proposed because I think I had a pretty clear case. I had accused this Rod Swift who runs the "Holy Smoke" site (which I have written about on AW in other connections) of fabricating evidence to support his absurd argument that Christians are "60x more likely" to go to prison than other people in America. The presentation of his statistics (which come from Bureau of prisons) and were related to him differ from that presented by adhernts.com. Adherents is a respected website I thought I would be more likely that Swift (who runs this biased anti-Christian website) would do the fabricating. They atheists on carm immediately began insisting that it's the respected site that did the fabricating. First they tried to say I did it, but that is disproved because the two different versions of the data are on the Swift's site and Adherents.com neither of which I can control.
after all it is Swift who is making the ridiculous allegation that Christians are sixty times more likely (!) to go to prison. If that were true every Christian you know should be in jail. Of course what he really means to say is that prison statistics mirror the those of the general population. It's wondered in such a way as to get attention or make an absurd accusation. the very premise is silly. If we could trust that the statistics for prison pop mirror the general pop then why even survey their religious affiliations?
this is a post I put up after a huge thread to clarify the result in my mind of the "discussion."


this is to clarify the result of the discussion in the huge thread and how it has changed my thinking, and in what respects i have not changed my original view.

My original view: Rod Swift claims Christians more likely to go to prison (absurdly that they are 60x ore likely!). I previously held that Swift fabricated the statistics because his table has a difference form that of adherents.com. I assumed that a major site that is well respected would not fudge the data.

How my view has changed:

I now realize that both groups, Swift and Adherents have the data that says there's a category called "unknown/none" made up of people who did not answer the question "what is your religious preference or identification?"

Both had the same figures. One table has the figures integrated into it (adherents.com) and the other table omits it but has it at the bottom (Swift). So it may well be that adherents actually changed the table. Since we are not told if the original data was sent in the form of a table or not we don't know. There is a possibility that adherents added it to the table.

adherence data from their table:

None/Atheist/Unknown 18,537 19.908%

Swift's data below table:

unkown/No Answer 18381

not exactly the same and no percentile is given.

interesting that the numbers are different.

Where my view has not changed:

Adding the category to the table is not dishonest. it may be unwise because it changes the table (of course we don't know if the data was sent in the form of a table). it's not dishonest because its' the same data. The numbers just recorded in a different venue.

Let's assume Swift didn't take them out and Adherents put them in. they are not being dishonest because they didn't change the actual numbers.

Swift wants to create the impression that there are only a tiny handful of atheist in prison instead of a larger number that's 20%. therefore taking them out could be construed as dishonest. While putting them in is not. I can't prove he took them out.

either way my original page was not dishonest either because I really thought I had proved that Swift changed the table. It may be that my assumptions were wrong.

If we assume all informed are honest Swift has not proved his argument. But he's not necessarily a dishonest person and it was probably jumping the gun to say that. At least he does reflect the data below the table. That does help the impression he wanted to create I really don't know if he took them off and put them below or if adherents took them from below and put them on the table.

The accusations I made, while they may have been wrong, were based upon the way I saw it. I didn't' do anything dishonest. My views are not wrong. I am right in saying that he has not proved his argument. there's a lot more there to be said on that score (about the argument itself).

for those who can't get enough tedious reading:

Swift's page:

http://holysmoke.org/icr-pri.htm

my page

http://www.doxa.ws/social/Prison1.html

adherents.com page

http://www.adherents.com/misc/adh_prison.html#altformat

you have to scroll to the top to see the adherent's page this link opens to Swift's table on the adherents site.
Here are comments and exchanges that followed:
Originally Posted by
Metacrock
Swift did not "create the impression" he provided the transmitted data via the Federal Bureau of Prisons. It was Adherents.com that wanted to "create the impression" and manipulated the data. Suddenly if Adherents.com did manipulation it is "unwise" when you thought Swift did it you crowed all over the place on how he fabricated and misrepresented data.
Meta:
Comments like that cause me to suspect that skylurker is Swift. He would otherwise have no way of knowing in form the data came to Swift. Be that as it may saying he doesn't want to create an impression is belied by the fact that he sells it as "Christians are sixty times more likley to go to prison." If that's not an impression nothing is.
an atheist:
Humorously you make comments like

"

Sociologists would laugh themselves silly over the simplistic nature of Swift's thinking

" - Metacrock

In the end it was you and Adherents.com that were the perpetrator of simplistic thinking.
On your doxa website you make simplistic and underhanded claims such as:

"Of course he's [Swift] distorting these figures too because it's not 8% certianly not 16%. He's including people who believe in God but don't like organized religion as well as agnostics as atheists. He's also dealing with his flase figures. The actual figure is 20% atheists in prison and 3% in society. So what does this tell us? Atheist are a lot less well behaved." - Metacrock

You don't want to include people who don't like organized religion when you want the number of atheists to be small as in the general population BUT have no problems with them being lumped in when the want the number of atheists to be large in prison. The figure is NOT 20% in prison you can't take "Unknown" for example and claim they are "Atheist" that is just wrong.

Some people just don't have a good sense of what is intellectually and academically dishonest. For example, it is dishonest that once you know your data is wrong, your accusations misplaced to not retract or fix or apologize for your published mistakes.

You called me a liar just how many time in the last thread?
Originally Posted by
Metacrock
Yes, I bet Christian juries are biased and give fellow Christians breaks.
So Now he's an expert on the Criminal justice system. It's it amazing that no Christian I know has gone to prison (that's hundreds of people) yet are all 60x more likely too. So 86% of the population is 60 times more likely to go t prison than the rest, yet no on ever seems to go. That's hysterically stupid. If we could assume that the prison population is going to be perfect mirror of society then we don't to do reserach on their religious preferences. Obviulsy they are not going to prefectly represent society and we know that parishioners are disappointingly poor and uneducated. why would they not be disproportionate represented religiously?
He also doesn't deal the parole argument. They are saying they are Christians to get parole. No record kept on their religious views when they are first arrested. No attempt made to distinguish bewteen true adherents and adherents in name only. these are elementary thing anyone with a brain ought to know.
Be that as it may, notice his basic assumption of my honesty is "since you don't agree with my premise that proves you are dishonest." If that's the break I gave Swift then I should make a disclaimer and say I can't prove he's dishonest. Yet he's clearly wrong about the argument.